Sports Massage
Sports Massage at Flawless Physio
Flawless Physio is a premium provider of Sports Massage in London. All of our Sports Massage Therapists are passionate about sports and helping people recover from training and sporting events. Our therapists are highly skilled and confident in their ability to find the right mixture of pressure application, stretching, and soft tissue massage to help with your muscle tension and sports injuries.
If requested, your sports massage therapist will provide a sports stretching plan that is specifically tailored to your given sport rather than generic exercises. They can provide advice on stretching routines, use of a massage stick, and foam rollers, when to use heat or ice application, and how long to use them for. This helps to reduce your risk of re-injury or injuring another part of your body due to compensation patterns.
What to Expect from Your Sports Massage?
Please arrive at the time of your Sports Massage Appointment.
Your Sports Massage therapist will take note of your history and what you would like to achieve from your Sports Massage Appointment.
Your Sports Massage appointment will take place in a professional, relaxing environment.
We offer Sports Massage and Deep Tissue massage, so please note that these massages are not like Swedish massage that is for relaxation purposes.
There is a 10-minute spacing between each appointment to ventilate the rooms and to allow a thorough sanitisation of the treatment room.
Our Sports Massage Therapists
It can be confusing when trying to find the right massage therapist. There is an array of qualification levels and durations of study.
We only hire massage therapists with at least Level 3 ITEC Diploma in Sports Massage. This is an internationally recognised qualification that educates graduates in the delivery of sports massage, deep tissue massage, and soft tissue healing. It also provides in-depth anatomy, physiology, and lifestyle training.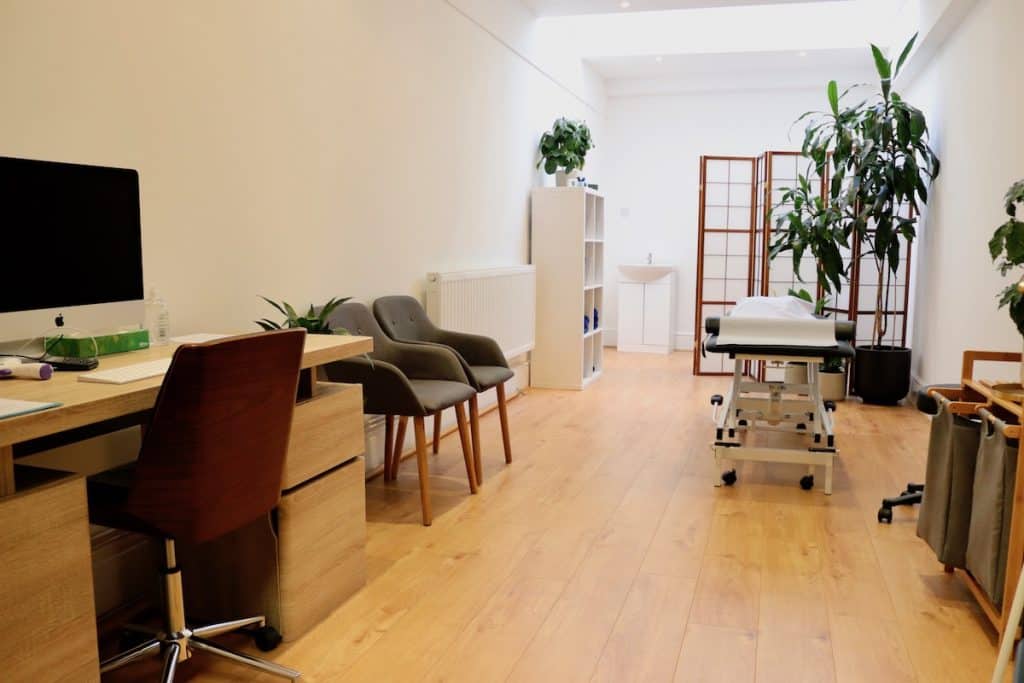 How much does a Sports Massage?
Our therapists are extremely highly qualified and therefore provide exceptional value for your money in a clean, professional environment. Our prices are as follows:
60-minute Massage: £78
45-minutes Massage: £62
Get 20% off your first appointment when you book online only.
What is a Sports Massage?
A sports massage is a hands-on treatment using various massage techniques to address areas of tightness, restriction, and soreness. Sports and Deep tissue massage therapies help to maintain healthy tissues including muscles, tendons, ligaments, and connective tissue.
Sports Massage is a commonly used recovery strategy for the relief of tension and tightness from any sport. Despite its name, deep tissue massage can be used to address non-sport-related issues too. Working at a desk can take its toll on the body and deep tissue massage can help release tension from stresses and strains of long sitting hours. Problem areas are addressed with deep pressure application, trigger point, myofascial release.
Regular massage is recommended. The frequency of sports massage can be dependent on how often you exercise, if you sit for very long hours at work or if you are keen to maintain your general health and fitness.
What are the benefits of a sports massage?
One of the key aims of Sports Massage is to reduce your risk of injury. It helps support your training by aiding your recovery. It eases muscular aches and pains that can impact your daily life. If you are injured, your physio might recommend a massage to assist with the healing process and to help you regain full function.
Whether injured or not, deep tissue massage aims to reduce your recovery time and get you back to your favourite sport/activities faster. Here is a non-exhaustive list of benefits you can expect from an appointment:
Muscle tone reduction
Increased range of motion
Improved blood flow in restricted areas
Improved fluid movement
Realignment of muscle fibers
Relaxation/ Reduced anxiety
Improve performance
Pain reduction
What to wear to a Sports Massage Appointment?
We recommend you wear appropriate loose clothing as your therapist may be working directly on your skin and thus require you to expose areas of your body. We have shorts and towels to keep you covered and comfortable during your treatment. If you would like to contact us to book an appointment or discuss this further, you can do so using the options below:
Sports Massage Fulham
Feel Good, Move Well, Be Better.